Innovation and Founders Halls
Elon University
The first buildings in Elon's Innovation Quad, a shared engineering and physics hub, encourage creativity, collaboration, and innovative thinking.
Elon University's new Innovation Quad will be a home for multiple fields of study, drawing students from all parts of campus into a dynamic, interdisciplinary atmosphere for learning and research. The first projects in the quad, Founders Hall and Innovation Hall, serve as an academic destination, housing both the Engineering Program and Department of Physics with labs and shared teaching spaces. Designed in fulfillment of the campus master plan completed by Ayers Saint Gross in 2016, the T-shaped complex supports the expansion of the engineering program and provides flexible teaching and learning spaces that will support the university for years to come.
Innovation Hall houses laboratory spaces for core engineering courses, bioinstrumentation, and environmental engineering research, as well as faculty offices and a variety of flexible classrooms for biophysics and physics.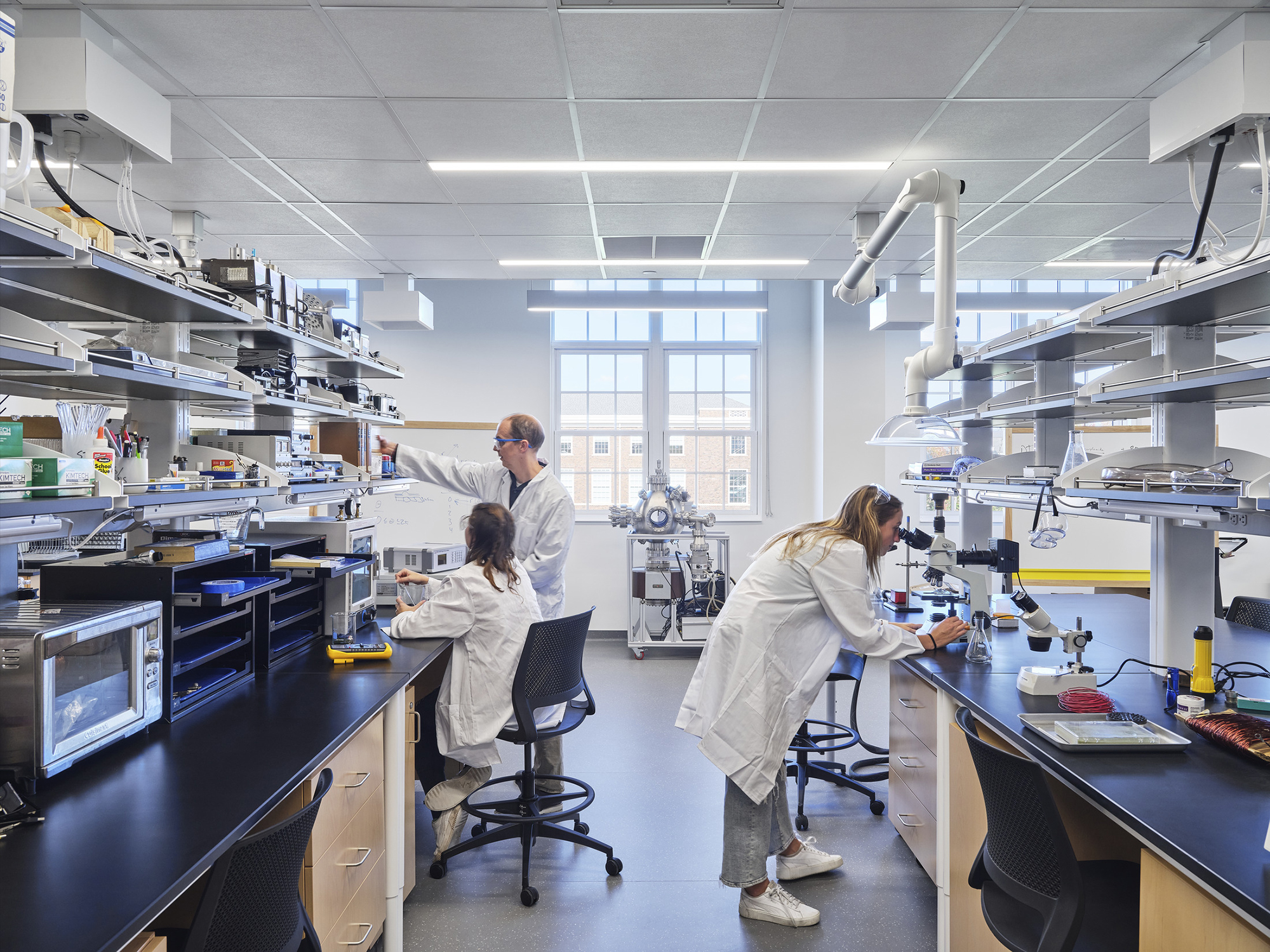 A grand stair lined with dichromatic glass connects Innovation Hall's three-floors, making a statement while bringing in a sense of playful surprise. The intricate detailing continues with exposed structural steel bracing and beautifully crafted wood and steel stairs with hexagonal mesh railings.
Founders Hall is designed to inspire engineering students and faculty to transform bold ideas into prototypes. The two-story building includes a main assembly hall that provides gathering and collaboration areas for students, where a grand stair can serve as both a social area for students and flexible lecture seating. Additional spaces include laboratories for engineering design, advanced prototypes, virtual reality research, and mechatronics.
In developing the program, the team and the university worked together to think beyond current needs and plan for the evolution of how engineering and physics will be taught. Double-height assembly and maker spaces showcase the creativity and ingenuity of the students. The interior is designed to reflect the rigor and tectonics of innovation through raw material such as painted steel and exposed concrete floor accented by warm wood in the floor and ceiling.
A custom truss is designed to showcase engineering concepts of tension and compression, with the ceiling braces resisting tension while the steel struts resist compression.
The project amplifies Elon's excellence in teaching by utilizing all spaces as adaptable learning environments supported by state-of-the-art technology, instruments, equipment, and infrastructure.
Designed to encourage creativity, collaboration, and innovation, the complex creates a vibrant academic culture of excitement, discovery, and innovation. The buildings have become a vehicle for recruitment and retention, promoting faculty and staff collaboration, and providing signature spaces focused on entrepreneurship.
The architecture is molded in the campus's classical Georgian style, while utilizing massing to highlight and connect to major circulation paths that interconnect buildings across campus. The two wings connect facing a quad, and the architecture shifts depending on the side of the complex — keeping the campus identity while establishing forward momentum for future buildings in the innovation quad.
Partner
Walter Robbs – Architect of Record