Giant Leaps Master Plan and Planning Studies
Purdue University
Location
West Lafayette, IN
Purdue University engaged Ayers Saint Gross to create a master plan that provides a 50-year vision that informs near-term decisions and actions. The plan creates a framework for open space, circulation, connectivity, renovations, and new construction for the West Lafayette campus. The plan aligns the physical campus with the mission and programmatic goals and initiatives of the Purdue Moves strategic plan and is guided by six planning principles: strengthen identity, enhance connectivity, promote vibrancy, foster collaboration, nurture sustainability, and increase utilization and flexibility. As part of the comprehensive planning effort, the team conducted in-depth analysis focused on housing, space needs and space adequacy, athletics, and research. The final plan balances visionary goals with what can realistically be achieved, funded, and implemented.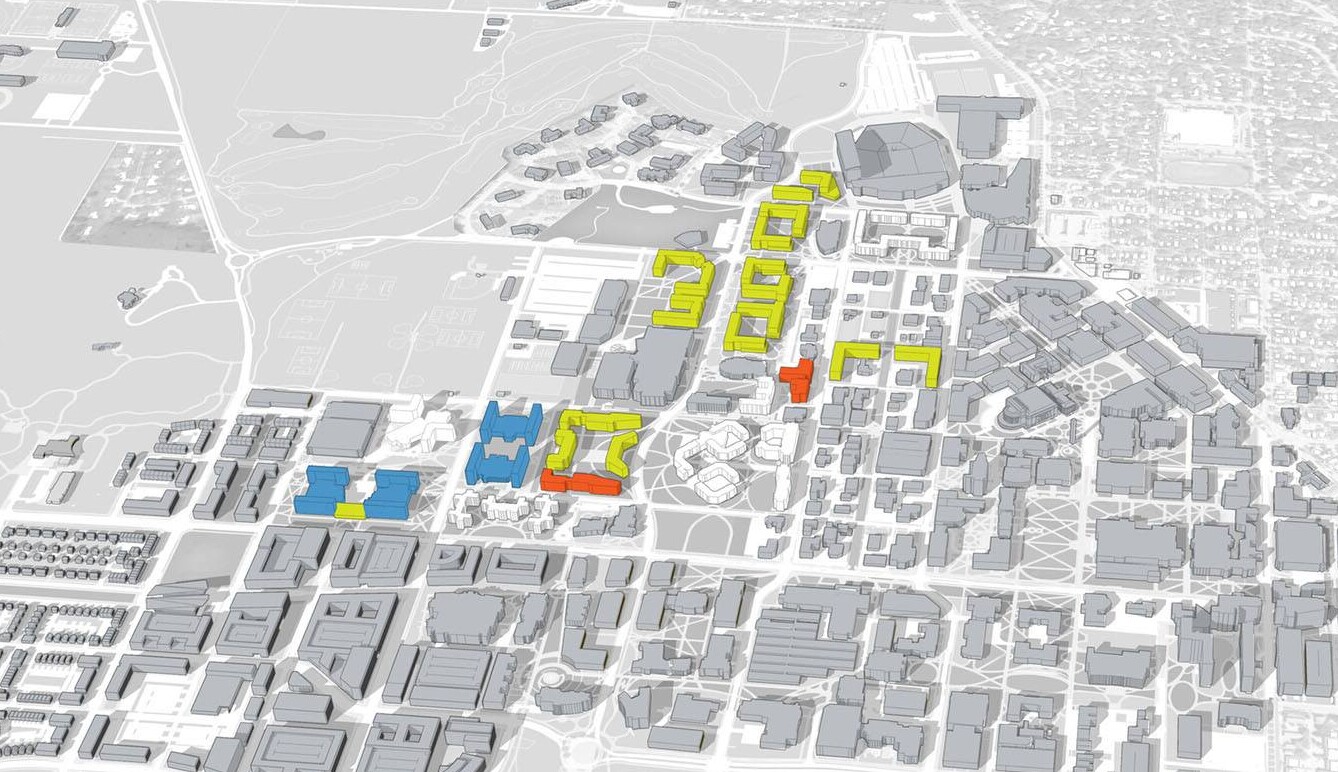 Housing Master Plan 
The university's strategic plan set a goal to house 50% of undergraduate students and to infuse that housing with living-learning spaces like those included in recent projects on campus. The housing master plan seeks to achieve these goals within the context of the broader Giant Leaps campus master plan while simultaneously unifying the largely separate academic and residential sections of Purdue's campus. The housing master plan provides a phased approach to development to accommodate an initial need of 1,000 beds followed by additional projects to provide high-quality, equitable spaces through renovations, demolition, and new construction. The plan includes a housing market analysis which aids in determining the right mix of unit types and price points to maximize the value of future investments in the residential experience on campus. 
Space Needs 
To support decision-making and planning for the Giant Leaps master plan, a space needs assessment was conducted to identify current space distributions, instructional space utilization, and areas of need across campus. The main goal was to determine how Purdue can better utilize existing, non-residential space and quantify if additional space is needed as the student population grows. The process included engagement sessions with key stakeholders and a review of a variety of data sets provided by the university. In addition to quantitative needs and growth projections, a space adequacy assessment of approximately 145 academic and administrative buildings provides an understanding of the quality of space and how that impacts the ability of that space to meet current and future instructional, research and workplace needs. The space needs assessment and adequacy assessment were critical components to inform decisions and prioritize needs in the master plan.  
Fort Wayne Master Plan 
Purdue University's Fort Wayne campus went through a recent period of transition from a regional campus to a metropolitan campus designation, as well as a shift to assuming full organizational control of the campus. This resulted in the need for a new master plan to support the goals of enrollment growth and more residential student experience.  Through a collaborative process, the PFW master plan includes recommendations for investments that best reflect the university's shared values and strategic initiatives. It is evidence-based, utilizing facility data, previous studies, and emerging ideas to inform future projects. The programmatic needs and priorities for campus were determined using university enrollment targets, detailed space needs and space adequacy assessments and a housing and dining study. The master plan is a feasible roadmap to meet priority space needs and realize transformative projects that optimize land use and environmental stewardship. It provides direction on near-term needs while setting the university on a path for long-term development within an established framework for the reasonable development capacity of campus.
Ayers Saint Gross worked with Purdue to develop college level master plans that determine specific programmatic and facilities needs as well as priorities for each college and department.
College of Health and Human Sciences Space Master Plan 
The College of Health and Human Sciences (HHS) worked with Ayers Saint Gross on a college master planning effort aimed at uniting dispersed departments. The team developed a comprehensive strategy for providing educational and research facilities that meet the quantitate and qualitative demands of the college's students, faculty, and staff. To achieve this, Ayers Saint Gross engaged a wide variety of stakeholders and crafted a creative plan that strengthens strategic programmatic synergies and provides an opportunity for expansion of this unique collection of programs. The ultimate vision of the HHS Master Plan is to create a new identity and home for the college, improve adjacencies and quality of space, reduce fragmentation of units, and establish research clusters that leverage the college's strengths and synergies with other colleges and the Purdue Moves initiatives. Five proposed new facilities prioritize the largest need for the college— research space. Instructional, collaboration, and engagement (clinics) spaces are also drivers for new facilities. In total the HHS Master Plan recommendations include two instructional building projects, four research building projects, and targeted renovations to realize the programmatic goals and address the space quality issues for the college. 
College of Pharmacy Master Plan   
The Purdue College of Pharmacy seeks to transform the practice and science of pharmacy to lead advances in human health. To accomplish this, they need facilities that support educating and training students to become leading pharmacists and scientists, advancing scientific discovery and development, and maximizing global health outcomes through patient care and public service. To further distinguish the college and articulate its vision, Ayers Saint Gross worked with the school to develop a Master Plan that meets current and future needs by informing physical investments over the next 10 years. The identified solutions work to enhance student learning, faculty collaborations and research, and community outreach aimed at improving health and quality of life. The plan outlines priorities including the need for modern instructional space with increased flexibility, higher quality interdisciplinary research space, and more efficient office spaces.