Comprehensive Facilities Master Plan at the Smithsonian National Air and Space Museum
Smithsonian Institution
A long term plan to showcase, house, and preserve the premier aerospace museum collection in the world.
Size
1,500,000 GSF
200 acres
A 15-year Comprehensive Facilities Master Plan for the Smithsonian National Air and Space Museum (NASM) encompasses a long-term vision and recommends the implementation of several efforts to improve NASM's facilities: the flagship site on the National Mall, the Udvar-Hazy Center, and the Paul E. Garber Collections Storage Facility. Together, these three sites comprise more than 1.5 million square feet of space and house the world's most important collection of aviation and aerospace artifacts and archives. Future collections space needs for NASM's unique artifacts, a program for a new education center with a planetarium, and recommendations for future expansion were all part of the comprehensive vision for the future of NASM.
The Master Plan has four primary goals:
revitalize facilities and the visitor experience
replace inadequate and overcrowded storage spaces with new, modern facilities
relocate collections to efficient, secure, and properly-equipped and constructed, long-term storage
increase sustainability through efficient, high-performance buildings and sustainable sites.
For the National Mall Building, the major program drivers include more flexible education facilities, a Teaching Planetarium, an observatory, and improved organization of the non-public and public areas. The plan of the downtown facility can be accomplished through four major project categories.
Revitalization of the National Mall Building: It will require multiple phased projects to revitalize the NMB to meet current codes and standards, and requirements for modern exhibition programming. The most critical short-term improvements are exterior envelope repair and restoration, total building systems replacement, hazardous materials abatement, and mitigation, but other aspects of revitalization should be implemented and coordinated as funding allows.
East End Revitalization and New Education Center: The East End Revitalization would completely overhaul an underperforming area of the building and site and provide efficient and flexible new education spaces. The scope of this project includes the basement, 1988 restaurant pavilion, and the east terrace. It includes improvement of the loading dock, demolition and replacement of the restaurant, and a new Education Center with a Teaching Planetarium and relocated observatory. The revitalized, two-story east end addition will connect to the original building on both the ground floor and second floor, enabling use and operation separate from the Museum for evening and special events.
Entry Revitalization: Currently, long lines cause backups at security impacting visitor experiences in exhibit spaces in Gallery 100, Milestones of Flight and the Independence Avenue lobby. Redesigned entrances are proposed on both the north and south building faces to accommodate screening operations, and improve the visitor experience.
Terrace Revitalization: Existing terraces offer limited outdoor programming but also suffer from serious deterioration. Revitalization of the terraces is not only important for aesthetic reasons, but also for functional purposes such as stormwater management and building waterproofing. New terraces can also offer gardens highlighting the themes of air and space and reinforcing the educational mission of the Museum.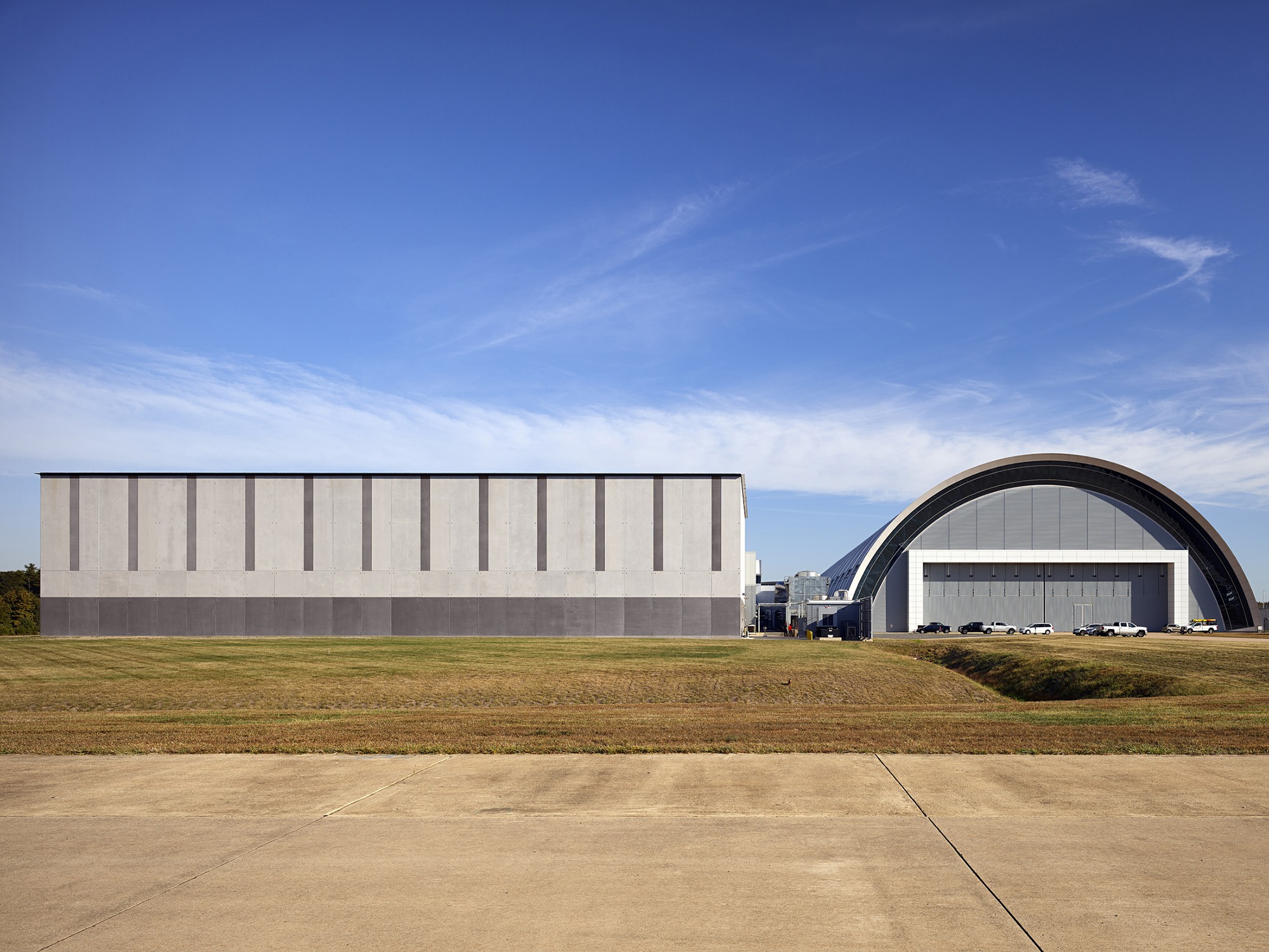 NASM identified the need for an annex space before the National Mall Building was even constructed. The large and growing collection of unique artifacts clearly would not be fully accommodated on the National Mall. Within two years of the NMB opening in 1976, planning began for permanent artifact storage.
Planning for these storage facilities began in the initial stages of the NASM Master Plan process with site analysis and an understanding of the specialized loading and management requirements for large and medium object collections facilities. A design framework plan was conceived that showed new parcels and a road and infrastructure framework for build-out of environmentally-suitable sites. At the same time as the planning process for NASM, the Smithsonian embarked on a pan-Institutional initiative called the Smithsonian Collections Space Framework Plan
Sites at the Udvar Hazy-Center and Dulles Collection Center were identified to house the NASM collection, most of which is located aging buildings at Garber Collections Storage Facility. These sites represent a unique opportunity to satisfy pan-Institutional needs for large object storage, while improving environmental quality and operational sustainability and reducing overcrowding and reliance on leased space. Storage requirements for NASM's diverse collection range from large, hangar-type structures for aircraft and spacecraft, to 3-inch by 3-inch handling trays for medals, pins, and insignia. Ayers Saint Gross designed and implemented the Phase 1 module of collections storage at Dulles.
Developing the Dulles Collections Center
The master plan for the Udvar Hazy Building and Dulles Collection Center site accommodates priority programmatic needs while resolving building system and site deficiencies. Unlike the National Mall site, the proposed projects are relatively independent of each other. Key issues include maintaining the visitor experience with minimal disruption to operations, protection of collections, increased efficiency and sustainability, and phasing, coordination, and funding of improvements. The plan can be accomplished through the following major project categories:
Replacement of Inadequate Storage Facilities: A priority recommendation is to replace the inadequate and overcrowded storage facilities with new, energy and operationally efficient and structurally robust facilities at the Dulles Collections Center. This development consists of two collections storage modules and one hangar building. The remainder of the space required is addressed with construction of the first phase of the Large Object Prototype (see diagram above).
Revitalization of the Existing Udvar-Hazy Center: Address building deficiencies regarding envelope and security modernization in the existing facility to preserve the currently housed artifacts.
Site Sustainability Projects: With such a large land area, NASM has an opportunity to embrace more sustainable practices while also reducing the operating costs of maintaining the site over time. Currently, more than 60 acres of turf grass are maintained by mowing or other maintenance methods on the UHC site. Indigenous trees and riparian plantings that tolerate a wide range of soil conditions should be used in the future. Furthermore, landscape medians should be removed and converted into rain gardens or bioswales that would help provide additional stormwater mitigation for future development.
The coming years for NASM will be dominated by significant planning and capital investment in facilities revitalization and new collections space. The projects included in this plan will make collections more accessible to researchers and the general public, but also inspire and educate visitors and advance Smithsonian-wide education and collections space goals.